Aquacidia viridifarinosa (Coppins & P. James) Aptroot
in Aptroot & al., Gorteria, 40: 13, 2018. Basionym: Bacidia viridifarinosa Coppins & P. James - Lichenologist, 24: 353, 1992.
Synonyms:
Distribution: S - Camp (Puntillo & Puntillo 2011).
Note: a suboceanic species growing on shaded, smooth and not too acid siliceous rocks in oceanic humid woodlands, sometimes on smooth bark at the base of old deciduous trees; mostly sterile, with confluent soralia giving raise to yellow-green farinose soredia; the type material is from an old Tilia tree. The species belongs in the Pilocarpaceae.
Growth form: Crustose
Substrata: bark and rocks
Photobiont: green algae other than Trentepohlia
Reproductive strategy: mainly asexual, by soredia, or soredia-like structures (e.g. blastidia)
Most common in areas with a humid-warm climate (e.g. most of Tyrrenian Italy)
Commonnes-rarity: (info)
Alpine belt: absent
Subalpine belt: absent
Oromediterranean belt: absent
Montane belt: absent
Submediterranean belt: absent
Padanian area: absent
Humid submediterranean belt: extremely rare
Humid mediterranean belt: extremely rare
Dry mediterranean belt: absent
Poleotolerance:

(info)

0

1

2

3

Altitudinal distribution:

(info)

1

2

3

4

5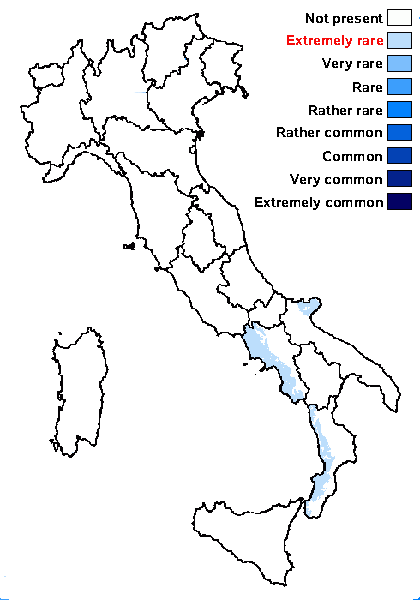 Curtis Randall Björk – CC BY-SA 4.0
British Columbia, Thompson Plateau, Opax Mountain Date: October, 2006 On rotting bark of Shepherdia in cool but dry forest in gully