Gyrocollema rupestrinum (Zahlbr.) Henssen
Syst. Ascomycetum, 5: 131, 1986. Basionym: Ginzbergerella rupestrina Zahlbr. - Hedwigia, 71: 208-209, 1931.
Synonyms:
Distribution: C - Abr (Schultz 2014).
Note: this very poorly understood species is known only from the type material, collected by Ginzberger in the Gran Sasso Massif (central Apennines) on calcareous rocks.
Growth form: Crustose
Substrata: rocks
Photobiont: cyanobacteria, filamentous (e.g. Nostoc, Scytonema)
Reproductive strategy: mainly sexual
Poorly known taxon in need of further study
Commonnes-rarity: (info)
Alpine belt: extremely rare
Subalpine belt: absent
Oromediterranean belt: absent
Montane belt: absent
Submediterranean belt: absent
Padanian area: absent
Humid submediterranean belt: absent
Humid mediterranean belt: absent
Dry mediterranean belt: absent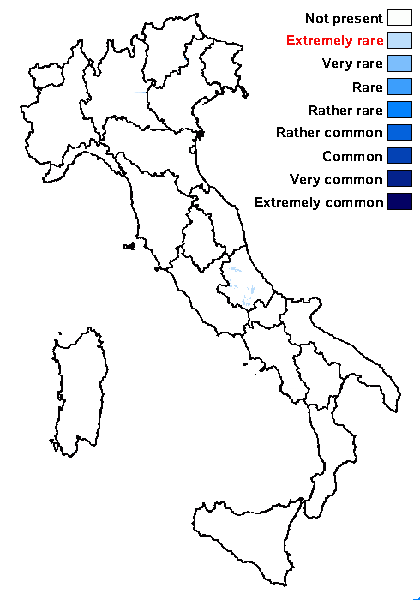 Predictive model