Aspicilia scutellaris A. Massal.
Ric. Auton. Lich. Crost.: 38, 1852.
Synonyms: Lecanora scutellaris (A. Massal.) Jatta; Patellaria scutellaris (A. Massal.) Trevis.
Distribution: N - Ven, Emil (Fariselli & al. 2020), Lig.
Note: a very poorly known species of basaltic or calcareous rocks, also reported from France. According to Roux & coll. (2014) it does not belong to Aspicilia s.str.
Growth form: Crustose
Substrata: rocks
Photobiont: green algae other than Trentepohlia
Reproductive strategy: mainly sexual
Poorly known taxon in need of further study
Commonnes-rarity: (info)
Alpine belt: absent
Subalpine belt: absent
Oromediterranean belt: absent
Montane belt: absent
Submediterranean belt: very rare
Padanian area: absent
Humid submediterranean belt: absent
Humid mediterranean belt: absent
Dry mediterranean belt: absent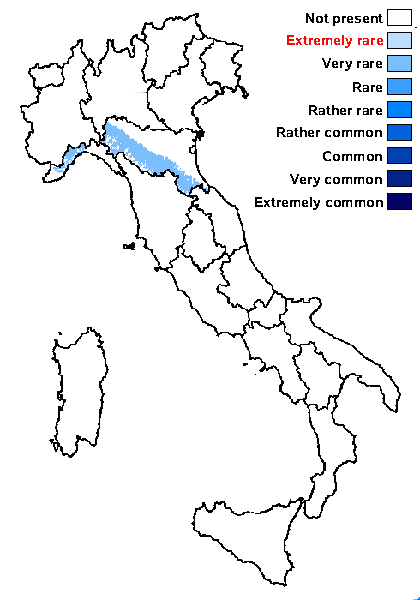 Predictive model