Cecidonia xenophana (Körb.) Triebel & Rambold
Nova Hedwigia, 47: 291, 1988. Basionym: Placographa xenophana Körb. - Parerga Lichen.: 464, 1865.
Synonyms: Lecidea alumnula Nyl.; Lecidea dealbatula Nyl.; Lecidea deparcula Nyl.; Lecidea hymeneliicola Alstrup & D. Hawksw.; Lecidea subumbonata Nyl.; Lecidea subumbonella Lamy; Lecidea umbonella var. alumnula (Nyl.) Hertel; Nesolechia xenophana (Körb.) Vouaux
Distribution: N - Frl (Tretiach & Hafellner 2000, Brackel 2016). C - Sar (Brackel & Berger 2019).
Note: an obligately lichenicolous fungus growing on the thalli of Porpidia-species; probably more widespread in the Alps.
Growth form: Lichenicolous fungus
Substrata: rocks
Reproductive strategy: mainly sexual
paras Porpidia spp.
Commonnes-rarity: (info)
Alpine belt: very rare
Subalpine belt: rare
Oromediterranean belt: absent
Montane belt: very rare
Submediterranean belt: absent
Padanian area: absent
Humid submediterranean belt: absent
Humid mediterranean belt: absent
Dry mediterranean belt: absent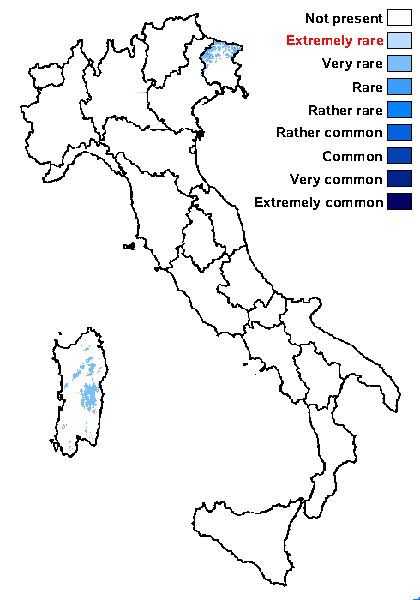 Predictive model