Cyrtidula hippocastani (DC.) R.C. Harris
More Florida Lichens: 65, 1995. Basionym: Verrucaria hippocastani DC. in Lamarck & de Candolle - Fl. Franç., éd. 3, 2: 314, 1805.
Synonyms: Cyrtidula ptelaeodes (Ach.) Minks; Dermatina ptelaeodes (Ach.) Zahlbr.; Mycoporum hippocastani (DC.) Coppins
Distribution: N - VG (TSB 12790), TAA (Arnold, Lich. Exs. Nr. 1573: S-F76071).
Note: on the branches of different broad-leaved trees in the submediterranean belt; the Italian material was collected on Fraxinus ornus.
Growth form: Fungus
Substrata: bark
Reproductive strategy: mainly sexual
Pioneer species
Commonnes-rarity: (info)
Alpine belt: absent
Subalpine belt: absent
Oromediterranean belt: absent
Montane belt: absent
Submediterranean belt: rare
Padanian area: absent
Humid submediterranean belt: rare
Humid mediterranean belt: absent
Dry mediterranean belt: absent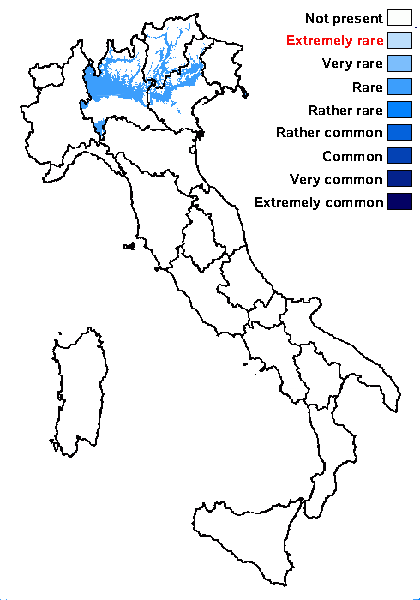 Predictive model