Lecidea italica B. de Lesd.
Bull. Soc. Bot. Fr., 70: 280, 1922
Synonyms:
Distribution: N - VA.
Note: a very poorly known species with a white, thin thallus of scattered to contiguous, angular areoles reacting K-, on a black hypothallus, a I+ blue medulla, numerous, black, sometimes thinly pruinose, sessile apothecia (2-2.5 mm in diam.), the disc urceolate to concave, the margin prominent and wavy, an olivaceous epithecium reacting K-, a strongly amyloid hymenium of coherent paraphyses, a colourless hypothecium, 8-spored asci, and ellipsoid to oblong, hyaline, simple ascospores measuring 12-17 × 6-7(-8) μm; only known from the type collection in Valpelline, at 2,900 m.
Growth form: Crustose
Substrata: rocks
Photobiont: green algae other than Trentepohlia
Reproductive strategy: mainly sexual
Poorly known taxon in need of further study
Commonnes-rarity: (info)
Alpine belt: very rare
Subalpine belt: absent
Oromediterranean belt: absent
Montane belt: absent
Submediterranean belt: absent
Padanian area: absent
Humid submediterranean belt: absent
Humid mediterranean belt: absent
Dry mediterranean belt: absent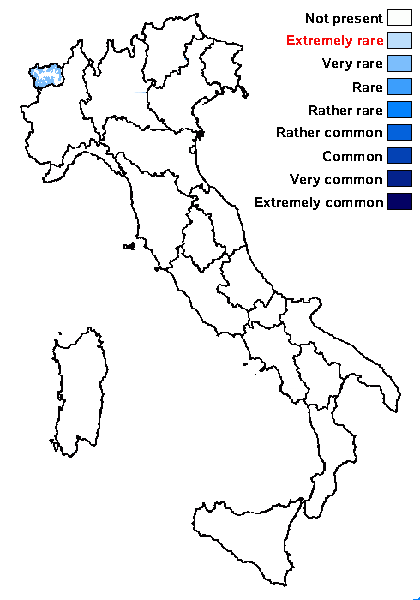 Predictive model