Cheiromycina flabelliformis B. Sutton
in Sutton & Muhr, Nord. J. Bot., 6: 834, 1986.
Synonyms:
Distribution: N - TAA (Thor & Nascimbene 2007).
Note: on acid bark, more rarely on wood in humid, sheltered situations, mostly in upland areas. The Italian sample was collected on a stump of Picea. The species is included in the Italian red list of epiphytic lichens as "Data Deficient" (Nascimbene & al. 2013c).
Growth form: Crustose
Substrata: bark
Photobiont: green algae other than Trentepohlia
Reproductive strategy: mainly asexual, by soredia, or soredia-like structures (e.g. blastidia)
Commonnes-rarity: (info)
Alpine belt: absent
Subalpine belt: extremely rare
Oromediterranean belt: absent
Montane belt: extremely rare
Submediterranean belt: absent
Padanian area: absent
Humid submediterranean belt: absent
Humid mediterranean belt: absent
Dry mediterranean belt: absent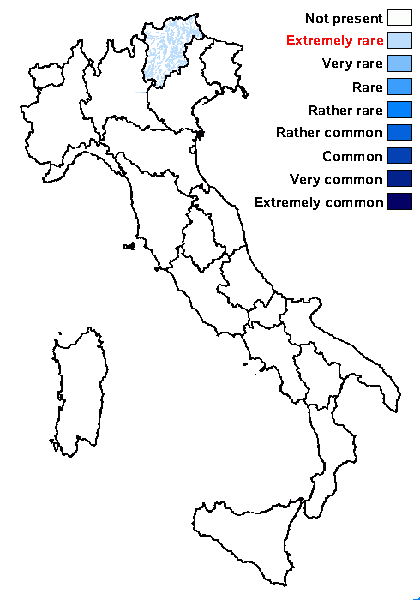 Predictive model