Collemopsidium angermannicum (Degel.) A. Nordin
Graphis Scripta, 13: 39, 2002. Basionym: Arthopyrenia angermannica Degel. - Ark. Bot., 24A, 3: 23, 1931.
Synonyms: Arthopyrenia strontianensis Swinscow; Pyrenocollema strontianense (Swinscow) R.C. Harris
Distribution: C - Sar.
Note: a species with a thin, episubstratic, smooth to rimose, olive-brown to dark brown thallus with a cyanobacterial photobiont (developing globose cells) and scattered black perithecioid ascomata containing fissitunicate asci with 1-septate ascospores and richly branched hamathecial elements. It grows on often submerged siliceous rocks along streams and along the margins of lakes; widespread in the Holarctic region, but not common
Growth form: Crustose
Substrata: rocks
Photobiont: cyanobacteria, filamentous (e.g. Nostoc, Scytonema)
Reproductive strategy: mainly sexual
Periodically submerged (e.g. in creeks)
paras Verrucaria spp.
Commonnes-rarity: (info)
Alpine belt: absent
Subalpine belt: absent
Oromediterranean belt: absent
Montane belt: very rare
Submediterranean belt: absent
Padanian area: absent
Humid submediterranean belt: very rare
Humid mediterranean belt: absent
Dry mediterranean belt: absent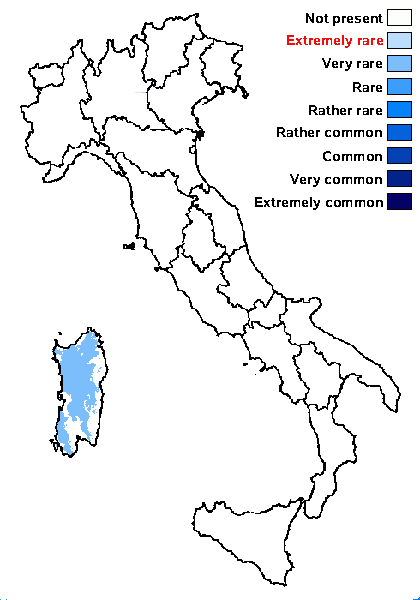 Predictive model