Collemopsidium halodytes (Nyl.) Grube & B.D. Ryan
in Nimis, The Lichens of Italy. A second annotated catalogue: 19, 2016. Basionym: Verrucaria halodytes Nyl. - Mém. Soc. Imp. Sc. Nat. Cherbourg, 5: 142, 1858 ("1857").
Synonyms: Arthopyrenia halodytes (Nyl.) Arnold; Arthopyrenia kelpii Körb.; Arthopyrenia orustensis Erichsen; Leiophloea halodytes (Nyl.) Trevis.; Paraphysothele halodytes (Nyl.) Keissl.; Pyrenocollema halodytes (Nyl.) R.C. Harris; Thelidium halodytes (Nyl.) Erichsen
Distribution: C - Tosc, Sar (Neuwirth 2018). S - Cal (Puntillo 1996), Si (Nimis & al. 1994).
Note: a subcosmopolitan maritime lichen, common, but often overlooked, along the Italian coasts, most often found on barnacles (Balanus), Patella, Littorina etc, but also on calcareous rocks; the species however may have been confused with C. foveolatum: at least the record from the Tremiti Islands by Nimis & Tretiach (1999), and all records from the Trieste coast refer to that species. Italian material needs revision.
Growth form: Crustose endolithic
Substrata: rocks
Photobiont: cyanobacteria, filamentous (e.g. Nostoc, Scytonema)
Reproductive strategy: mainly sexual
Periodically submerged (e.g. in creeks)
Taxon bound to maritime-coastal situations
Commonnes-rarity: (info)
Alpine belt: absent
Subalpine belt: absent
Oromediterranean belt: absent
Montane belt: absent
Submediterranean belt: absent
Padanian area: absent
Humid submediterranean belt: absent
Humid mediterranean belt: rare
Dry mediterranean belt: rare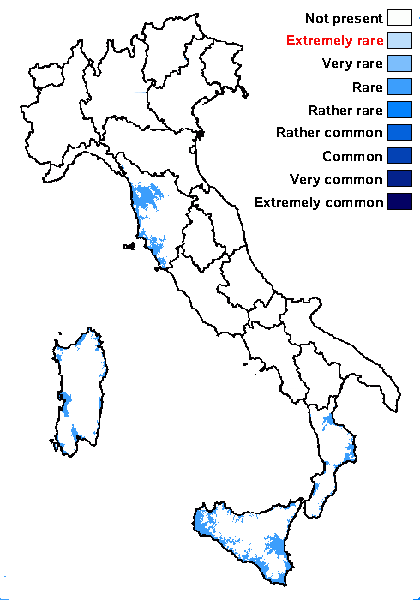 Predictive model